Thin Spaces:6 Postures for Creating and Practicing Missional Community
Article posted on Monday, June, 11th, 2012 at 8:00 am
Some of you might remember that I made a trip to San Diego last year to be a part of the pre-discussions of book been written by our friends that side. The good news is that is now available here (in fact it is 'temporarily out of stock' which means they are selling like Ouma Bessie's fresh pancakes at the boeremark). I have not read the book yet but am looking forward to it's kindle release to see exactly how it all turned out! It seems to be getting some really good reviews and has even stirred up a little discussion about the title with two fairly prominent U.S. bloggers, Tony Jones and Steve Knight.  The other rad thing about the book is that it is going to be released with a DVD for group discussions which I think it really helpful.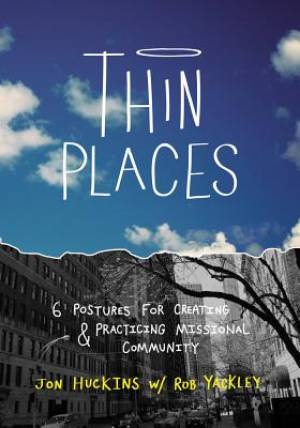 From the Description:
While praying for his community on the Island of Iona, the Celtic monk St. Columba described his experience as a thin place, a location where heaven and earth seemed only thinly separated. In the same way, Gods kingdom is being realized here on earth with stories of restoration and redemption. Our God moved into the neighborhood, seeking to invite us into his story of reconciliation, and commission us to missionally engage our neighborhoods with the good news of the kingdom. Joining the concepts of monasticism and mission, author Jon Huckins will walk you through six postures of missional formation: listening, submerging, inviting, contending, imagining, and entrusting. As you begin to employ these postures, become apprentices of Jesus who are committed to living in and experiencing the thin places. Through Thin Places, create a fertile soil to commune with God, live in deep community with others, and extend the good news of the kingdom in your local contexts.
Good work to Jon and Rob and the rest of NieuCommunities San Diego people!
Tags:
Jon Huckins
,
Missional Community
,
Rob Yackley
,
San Diego
,
Thin Places
No comments